Annette Zina Maybee, the daughter of Bill and Zina (Limb) Maybee was joined in marriage to Truyen The Pham on July 30, 1999 in Farmington, Utah.
NEW ADDITIONS:
Hayley Allison Reagan, daughter of Rich and Lori Reagan was born July 27, 1999.
On December 6, 1999, Rob and Carolynn Maybee had twin baby boys!!
BILL & ZINA MAYBEE:
We've decided to reinstitute a family letter to keep in touch with family and friends and to let you know how wonderful the grandchildren are. We probably won't go back any further than the birth of Hayley Allison Reagan, who was born on 27 July, 1999. We think she did this on purpose, as she was scheduled to be born on August 13'th, which would have been Alexandra's birthday and the day after mine. Her mother also had an interview with Weber State University's Volley Ball Coach, so she could write an article for the Weber Alumni Association.
Annette and Truyen were married on 30 July, 1999. It was a lovely wedding. The Vietnamese Branch President, who married them, was serious, but also had a streak of fun in him. When Truyen made a mistake, he said, "Well, I've never been married before." The Branch President said, "That's good. That's very good." When he asked the question, Do you take this woman?", there's only one answer. "Yes" or "I do." The wedding was very nice, but with a few Maybee faux pas' s. Annette brushed against a tire on the way to the processional, and had a smudge on her beautiful dress. The wind came up before the wedding, and huge rocks were put on the tables to hold the table cloths down. As I said, the wedding went well. The bride and groom had a receiving line to shake hands and thank every guest. In the meantime, we put the food on the tables. The people made it through the line barely, and mostly finished eating, when the rain struck. Bret and Vicky were down during this time, and they attended parties for Theresa and Zina.
Shortly after Hayley was born, Rich finished writing his Video game which is named "Mayherif'".
This is Bill speaking now. During the summer and early fall, we've been working in Park City, and the surrounding area. As we demolished a Service Station, we had to haul the construction debris to a land fill in Ogden Canyon, and as we'd pass Hennifer, there's a white head stone with a black iron fence around it, I've often wondered if it was the location of the burial of Zina's relative who died in Echo Canyon on her way down from the valley.
The boys (Scott and Robert, and sometimes Gordon), and I have been marking pipeline from the other side of Park City to down in the Salt Lake Refinery. We come down Emigration Canyon frequently and see the place that's marked Brigham Young's last camp, which always reminds me that my great, great grandmother Smuin went into town and got shoes at Z.C.M.I., and then went back up to the wagon train so she wouldn't be barefoot, But she was already the first time when she came into the valley.
We also cross in close proximity to the "This Is The Place Monument", which my sisters Barbara, Belva, myself, and Grandma and Grandpa Millecam saw dedicated in 1947. They now have a State Park there, with the Deseret Village, which is kind of a Pioneer Village. The thing that impressed me about the unveiling of the statue was that it had a huge green canvas tarp over it. At any rate, our summer moved along swiftly with Nicholas and Spencer's Soccer games, and Alex's T-Ball games. As a family we helped Gabe put a sprinkler system in, and a lawn at his new house and we also put a new sprinkler system in at Robert's house. Also Gabe helped Robert build a new deck. Mary Ellen and Jon came to stay with us for a month or so. We sure enjoyed having Jacqui in our home. Gordon and family have visited frequently, and that's partly because of different church functions. Lori and Rich's baby, Hayley Reagan, was blessed on the 26th of September, with a family dinner following.
The following Sunday was General Conference, and Nicholas was baptized on the 9th of October, because the next day was Fast Day in their Ward. Nicholas has a
great Bishop, and was surrounded by about I 00 family members, who all went to Scott's yard for a Bar-B-Q after the baptism. While Brandi was down from Rexburg to Nick's baptism, she and her family also attended a wedding in Logan, and we then celebrated her birthday of 9th of October, on Sunday the 10th.
For Barbara's back to school issue, we thought we would tell you that Chris is in the 7th grade, and plays the trombone. Bryce is in the 5th grade, and starting on the violin and seems to be doing well. Brandi is in the 3rd grade, and Trent will start school next year, when the Maybee shock wave hits Utah and Idaho schools. Next year Trent, Jason, Theresa, and Spencer will all start school. Alex started the first grade this year. Jason is in a neighborhood pre-school. Nicholas is in the 2 d grade. Spencer is also taking pre-school. Lori is still finishing her dissertation. Annette has returned to Weber State University to enhance her history degree with a teaching certificate. Lori went to Santa Fe, New Mexico on the 16th and 17th to "read" a paper.
Zina's had a busy summer canning, and playing with the grandkids. It's nice to see the bottles of freshly canned fruit, and hear that "ping" when the lids seal, but for plain old joy, you can't beat playing with the grandkids.
Margi has been actively pursuing working in her field after working at Holiday Inn for two years. She's had five interviews in two weeks, all in Social Work. We hope she gets what she wants.


JUDY & FAMILY:
(I am not sure I am getting all these events in order. Judy is such a sweetheart; she sends a letter every week.)
In September she mentions that Jon and Romeny traveled to Denver to attend a wedding. Some of the others in the family rented a van and visited a Cajun festival in Sebastopol and the Oakland Zoo. Teresa and Ralph went to Las Vegas and while there the teenagers saw Insync. She went to a barbecue after work at Wayne and Tammy's and met a neighbor, a retired school teacher whose name was Marge Truxxilino. Judy immediately said "Truxxilino Tamales, and she piped in Butte, Montana.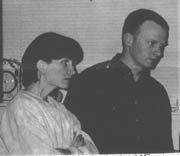 WAYNE & TAMMY BELL
It appears that the brothers immigrated from Sicily to Butte, Montana. She says she had a wonderful birthday, with cards from the Relief Society and cards and gifts from her family, including two players' masks (comedy and tragedy).
Teresa and Ralph's bid for a house in Pomona was accepted. Michael Paul traveled to Bali, Bangkok and Malaysia and will return for the holidays.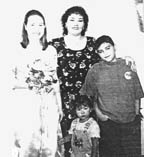 ASHLY, TERESA, JOSHUA & TAYLOR JULIANNE
Judy fell at work in October and hurt her leg, which continues to be stiff and painful. Her house is taking shape. She just installed sheet linoleum in the kitchen and dining area – squares of parquet looking wood/vinyl tiles and an off white Berber carpet in the living area.
SHELLY & KEEGAN AT GREAT AMERICA
November 14; she writes about Keegan's birthday and tells us that Jacob Bell well receive an award for achievement in Boy's Brigade (sort of like Boy Scouts, but affiliated with his church.)
Judy says that Shelly and her children created a large turkey from wood and plants that they put in the front yard for a Thanksgiving welcome.
Judy says that she is thankful for all happy moments of the past year, especially that her baby brother, Joe, is able to enjoy his lovely family. On Christmas Eve she and all her children will attend the Christ Lutheran Church, which is the church her children grew up in and purchase flowers to commemorate Michael Bell and Belva and Bob and other friends who departed this year.
JOHN & KATHY MAY BEE
John writes that all their children and grandchildren will be at their home for Christmas. A wonderful time. Better than the old days (with snow.)
"But my thoughts always go back to Butte Christmases in the '40s when we carefully divided that dollar or two among 4 brothers and sisters, Mom, Grandpa and Grandma….the washer and sewing machine starting up after we were all in bed. Grandpa taking us out to see the lights through fogged or frosty windows."
THE PERRY FAMILY:
Hello again. Long time no hear from. I am sitting back with the laptop on my lap and watching over Jacob, who has a 103-degree temperature. Kendra just returned from learning how to cheer lead for a high school basketball game. A girl from our ward is a cheerleader at Cascade High School. She use to baby-sit the kids. She was in charge of a mini cheer leading camp that grade school girls were invited to participate in. This Friday night at the Cascade vs. Bothell game, Kendra and her cousin Tasha will be the half time entertainment, along with 50 other girls. I will be taping it all, so I should have some good pictures for this letter. Friday will also be the day when our main Christmas present arrives. At about 11:30 a.m. the installers will be cutting a hole in our roof to prepare for our new wood stove. We decided to make our house Y2K compliant.
During an emergency preparedness tests for our Ward, one of the
questions was, "Do you have an alternate source of heat when the power goes out?" As I thought about it I thought about how cold it gets with the moist air here in Washington, and huddling around a gas stove at my parents house was not a very good option. So this year we decided for Christmas we would get one big present that we all could share instead of a lot of little ones. We spent the day after Thanksgiving laying tile and Saturday we grouted tile. Actually we had a member of our ward, who I had worked on his computer, lay and grout the tile for us. I figured the work he did was more difficult, so I gave him a card and slipped a twenty in it. He figured we were even so when he dropped his son off for scouts he slipped a present in our living room. He had stuck a bow on a box of fireplace tools that he bought with the twenty we had given him. I am so glad for wonderful friends in the church, unfortunately we will be losing them to Ogden in a couple of weeks.
THE PERRY TABLE
The kids made the card holders by spraying card stock with a spin art kit and then cutting them into turkey shapes. Vickie made the pilgrim man and woman.
Thanksgiving was a good experience this year. I had invited someone from work to join us this year since she had no where else to go. We changed our tradition of going to a movie after eating to going before we ate. Benita's family and our family saw Toy Story 2, and Bianca and Carly saw a different movie. We got home just before 3:00 p.m. which is when I told my guest to show up. We were all at my parent's house getting ready for the feast, when my guest misunderstood and went to my house next door.
Since I wasn't there, she took her salad and went home. After a half-hour of waiting for her to arrive I tried to call her on her cell phone, then at home, there was no response from either. I left a few messages and was beginning to worry, but there wasn't anything else I could do. We began eating about 4:00 p.m. and had a delicious dinner. At about 5:00 we were full and sleepy. I headed for home and found a message on my answering machine. My guest had shown up at our house and found us not home, so she went home ate her salad and fell asleep. I felt so bad. I called her back and invited her over, but she just said maybe, and she'd see, which means probably not. I am going to try to invite her over for dinner on Sunday and to see our new wood stove.
Vickie has been busy taking care of herself and sick kids. She still does cub scouts and squeezes in aerobics, trips to the doctor, joy school for Jacob, and cheer leading mini camp for Kendra. Also the regular cleaning the house and doing the laundry.

BIANCA, KEVIN & FAMILY:
Life is never dull at the Krall home. We still have an exchange student Aki from Nagano Japan. Dustin has been hunting quite a bit with his Dad. He even went to Wisconsin with his Dad for 10 days. They didn't get anything, but had a great time with all of the cousins and uncles. Carly is in the play "Annie" she loves to act and has been going to lots of rehearsals, The performance will be in Dec. She is still doing 4H with her horse. She really doesn't trust Neilsen anymore since she fell off and broke her arm, we hope we can help her get her confidence back. Kevin has been keeping very busy selling his Dad's house. We finally found a buyer but she had lots of items that she wanted repaired. This turned out to be a month long project. He also is one of those guys that cannot say no to anyone so he has remodeling his sisters bathroom and helping friends work on weekend projects. I have been going to lots of meetings with my calling. I am still the counselor over Homemaking. We have made it through Super Saturday, a lesson the next day on "Strengthening our sisters in times of trials in their life."
That was pretty appropriate timing for me. I now have a new charge from the stake president on the Church Humanitarian Program. This has been very exciting. I love reading the church news and all of the great ideas from there. I will be helping all of our auxiliaries get in the spirit of it. We have grand ideas for the young women for the newborn kits that we will make up for other countries and since I work at a school we will get donated items from surplus to send oversees along with the chalkboards our Young men will make. When our Relief Society got together to make dozens of Quilts for the people in Turkey and Kosovo we had such an overwhelming feeling of the spirit of service. It was a very special day for me.
We decided to get away from it all at the Veterans Day 4 day weekend. We went to Disneyland, Universal studios and Knott's Berry Farm. It was a great time with the family.
BARB & FAMILY:
We had a great summer. Markay, Dennis and children came in early August and Leesa later in the month. We went camping with the Kerns and had our annual Cousin's Day. It was so nice that Loretta and Danny were able to come!
In October, Leesa and I went to the Periodic Paralysis Association Conference in Las Vegas. She and I and Benita are in an on-line group dedicated to people who have HKPP. (In case there is anyone left who does not know about this yet, this is a genetic condition that we have on the Maybee side of the family. It is not always easily diagnosed. The major symptom is temporary paralysis, caused by a sudden shift in potassium.
Two of the women had attacks at the conference. Kay slumped to the floor, which is what Leesa and Benita and I do, and what Belva did. We have HYPOkalemia (which is low potassium). Gillian just became very weak. (If I remember right, she is HYPERkalemic.)
FROM LEFT: DR. LEVITT, PATRICK & KAY COCHRAN & DONNA.
Patrick is head of the PPA. Kay, his wife, is the one with HKPP. They remind us, both in looks and mannerisms of John and Kathy MayBee.
OUR doctor, Dr. Jacob Levitt, told a funny story about how when he was in his early year at medical school, he began to have an attack and dropped out of his chair and began crawling down the hall, attempting to get to his dorm room. He says two cute girls helped carry him to his room. But, he says, "they didn't stay, darn it."
We learned a lot and had a lot of fun. Leesa was particularly honored, because they printed her essay "The Yellow Line" on the programs. She also took the photographs for the conference. Her photography also is showing at the Comedy Club at Disney's Pleasure Island. One day when the moon was especially beautiful, she laid on her back in her driveway to take a picture. The enlarged version of the picture is now a stage setting for the club.
The PPA is working on trying to educate doctors in the disease. We are also doing a genealogical base to see if we can find common ancestors of those who have HKPP. I am the repository for this information and people will be sending information to me. So that it will be ABSOLUTELY confidential, the records will not be available in the PPA archives, just on floppies here. No one except PPA officers will have access to this information. Nothing will be available over the internet.
Dr. Mark Hoffman, a geneticist talked about gene therapy. Perry family members, take note…gene replacement is now being done for Retinitis Pigmentosa. Unfortunately, gene therapy will not work for HKPP because it is not caused by a missing gene, but a defective one.
Leesa came up for Thanksgiving and stayed until December 6th.
Thanksgiving was at David and Charlie's house and Haven and Kitty cooked most of the food. We had great turkey with all the trimmings and many
pies. They invited several friends from work; Soi, her husband and baby and Dillon and her husband Bill. Dillon and Bill just joined the church recently.
The girls decorated the table and house beautifully. They made very artistic vegetable and fruit platters. (Leesa did the fruit platter.) We had a great time.
While Leesa was here, we also went out to cut our trees. Since we went very early, we almost had the place to ourselves. It was a beautiful sunny day. Haven & Kitty got a large tree and picked out a little Charlie Brown Christmas tree.
We had our family Christmas party here on December 5th. Most of the family who are in the area were able to attend. Tina and children didn't make it because of transportation problems.
Again, the children and others made gingerbread houses. Valerie had 'glued' them all together the day before. We ate and talked. Games were available, but we never seem to get around to them.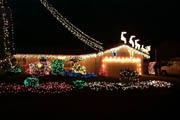 WE ALSO WENT TO SEE LIGHTS IN FIR GROVE

Amy came with her boyfriend, whom Valerie gave her usual third degree, and gave her approval.

This reminds me of the stories that Milas and Dan told about questioning boyfriends of their daughters.

Bonnie was leaving to go to a dance with a young man and wearing a strapless dress with quite a long slit in the skirt. At the last minute, here is Dan with a needle and thread, sewing up the slit and telling the boyfriend that he had better keep his eyes at face level.

Milas says that when Tony first came to take out Michelle, he gave him the third degree and then said, "You know, I didn't really mean to kill her first boyfriend." Tony just gulped and said, "Yes, sir. I'll take good care of her, sir." He must have passed the test, because they have been married for 3 years now.

Leesa was also here when the World Trade Organization came to Seattle and we got to see some of the demonstrations first hand, while on a trip to Pike Street Market. (Pictures later).

Leesa had gifts that she wanted to buy which you couldn't get anywhere else. So, we waited day after day to see if it was okay to go to Seattle. For several days all of downtown Seattle was closed off to anyone except delegates to the WTO. Some days, even business people could not go in the restricted areas. Finally on Friday the area by the Market was opened again, but traffic was rerouted around and some areas only buses could enter. So Leesa, her friend Cheryl and Cheryl's daughter, Sam and I drove to Ballard, then took the bus down town. Several times we were stopped and detoured by police.

At one point the demonstrators had a huge semi blocking the street crosswise. Demonstrators for the labor organizations invited us to join them. They were all very calm and quiet. Many organizations had problems with the WTO, especially when it comes to child labor and inhumane working conditions in some countries. But it was only one group who intentionally caused trouble…the Anarchist movement. They dressed all in black and covered their faces, so they were not hard to identify. It was a little scary, with policemen in full riot gear marching in lockstep. I'm afraid some of our policemen reacted badly. I understand that they had been out there for hours, sometimes without food or bathroom breaks, but some of them tear gassed people who were not even demonstrating or in the closed off zone, they were just attempting to get from work to the bus. I don't understand why the mayor and city council thought we could handle it, when there were similar problems wherever the WTO met previously.

Lynn and Bill leave for Bellingham on her birthday in January and so she is very busy right now with the mountains of paperwork that all jobs, especially government ones entail. She will also be in charge of the P.A. systems on the ferries. Bill had a sad experience recently. I don't know if you read about the shooting in an office on the waterfront. Bill had an appointment with the older man who died for 10:30 that day or the next. He was so busy that he put off the appointment. He says he wishes he had kept it, then Russ would have been on the boat with him and out of harm's way. Lynn points out, however, that maybe Bill would have been shot too.

Tina and family are here for the Christmas holiday and Jenny will be here tomorrow and go back next week.

I have been really busy with the Maybee Society newsletter. It takes weeks to get it all done. I have the help of Bret & Byron and Charles Gorton, who was a professional copywriter for many years. He proofreads and edits my material and makes notes as to why something should be the way it is. His advice is as good as taking a college level class in journalism. In between, there are queries, adding the information to the genealogical program and card file and filing. The most important item between newsletters is scanning all the notebooks (one for each of 280 members) onto a disk. At least my memory is improving. I am taking Ginkgo Biloba (sp) and it is helping.

Byron, Bret, Vickie and kids went out and cut down a huge Christmas tree for the living room, and last Sunday we all decorated the tree and the house. They spent Christmas Eve with Benita & Bianca & families and Christmas day with her family. (And did 2 family Christmas pageants, which were adorable. In one, Vickie's brother plays the donkey which Mary rode to Bethlehem.)